Standard & Customized Walks
We're There Pet Care specializes in dog walking and we're devoted to providing the best possible service!
We offer individual walks. Your dog(s) will get daily in-home appointments with one of our Au Pairs. Your dog will receive one – on – one attention. No other dogs will be included in these walks.
The standard appointment is 25 minutes. Your dog will be walked in your own neighborhood, given treats, fresh water and affection, all according to his or her particular needs.
You will receive an emailed report including a photo, every walk.
Standard walks take place Monday through Friday between 10am and 4pm.
Also, it is a breeze to check on your scheduled walks with our state-of-the art online scheduling system provided by Pet Sitter Plus.
Puppy packages are available!
We can develop a customized care plan just for you, or you can choose to stick with a standardized walk plan, whatever works best for you and your pet!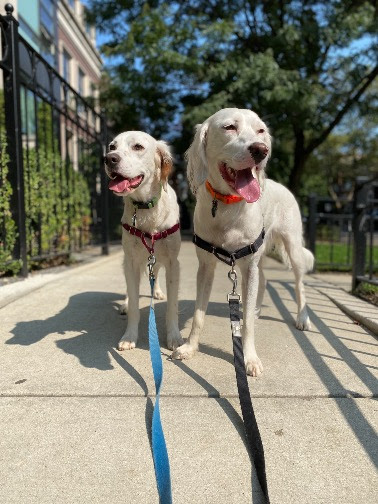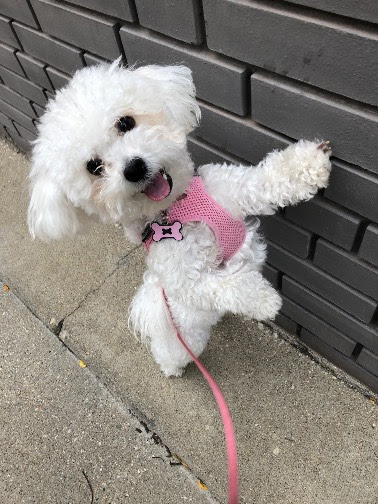 For those who welcome a puppy into the family, we also offer puppy packages to help your little one make it through the day until they are potty trained and ready for full walks!
Generally these visits are 15 minute visits are scheduled as a mid-morning walk and mid-afternoon walk.
Two 15 minute visits a day for a required minimum of 3 days per week to qualify for the puppy package pricing. Call for a quote!
Mornings, Nights, Weekends, & Holidays
Our clients lead busy lives. We understand sometimes you have to head out early, are stuck at work late, or maybe have an appointment to make, or an event to attend.
Weekend schedule is first come first served basis:

Please book services as soon as you know you need them to guarantee availability!
We are able to accommodate all types of service on weekends.
You must request services by 12PM on the Friday before the weekend of service.
Remember, holidays fill up quickly! Booking in advance is recommended. Rates are doubled on the following holidays: Memorial Day, Fourth of July, Labor Day, Thanksgiving Day, Christmas Eve, Christmas Day, New Years Eve, New Years Day.
If you need us to visit your cat in the morning or evening we are able to schedule visits before 10am or after 4pm for an additional fee.
Requested before 10:00am and after 4:00pm – $4 surcharge per visit
Saturday and Sunday walks – $4 surcharge per visit
These services are reserved for our existing clients only